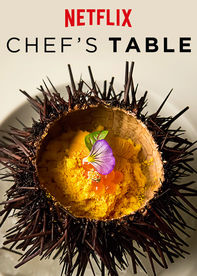 I want to encourage sustainability-minded people to watch the second episode of Chef's Table. It's available on Netflix streaming. It may well change the way you look at sustainability.
It seemed like such a great idea.. sustainable food. What Chef Barber discovered is what all people who want to live truly sustainably discover: you have to approach every aspect of the ecosystem in order to get to true Sustainability. In architecture, that means you look at the land, the air, the water, the sun... even the plants you surround your space with. This episode continues the rich tradition of sotrytelling that @netflix started with this series. The visuals, food, and story are intriguing. What we can learn from this about achieving real (maybe even radical) sustainability is powerful.
Categories
A-School
About Me
ABQ
Archaeo-Architecture
Archaeology
Architectural Musings
Architectural Travel
Architecture Criticism
Architecture Inspirations
Architecture Internship
Architecture Movies
Art Inspirations
Books worth a Look
Colorado
Fashion
Gratitude
Great Design
Great Quotes
Historic building materials
Historic Building Periods
Inspiration
Leadership
Movies Worth Watching
My Art
My Life
My Writing
New Mexico
Photography
Poetry
Preservation
Recipes
Santa Fe
SEED
Storytelling
Sustainability
Taos
TEDx

Popular Posts
Once upon a time ten thousand years ago the first Ziggurat was built in the desert lands of a great king a half a world away. Not so lo...

A few shots of my girlfriend Cherie's fabulous home in Bernalillo, which she just listed on the market... it feels like a quiet oasis ...

This exquisite table top icon of Our Lady of Guadalupe is in a private collection I was lucky enough to get to see recently. It is the work...

This is the queen of the Earthships. She's called the Phoenix and she's gorgeous. She's also available for sale for $1.5million...

Some still shots from the sites we hope to shoot and themes we will be exploring for a program we are producing for our non-profit Archite...

This simple primer is a brief overview of the material covered in New Mexico Historic District Tax Credit workshops. These financial incen...

So I recently was made aware that there is a 10 year old little girl who is coming to Santa Fe and loves architecture. Her dad reached ...

We visited the earthships as a part of the UNM-Taos Sustainability Institute Humanitarian Design Seminar this past week. Here are some hig...

So, a few weeks ago, USAToday posted a list of the 25 essential buildings to see in New Mexico that they got from the AIA. I personally th...

All rights reserved.. Powered by
Blogger
.